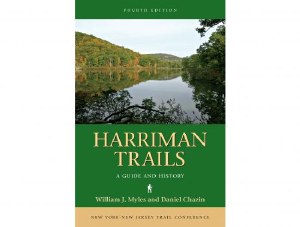 Harriman Trails 4th Edition
$19.95
A guide to trails in Harriman and Bear Mountain State Parks and a history book all in one.

This comprehensive guidebook to hundreds of miles of trails in Harriman and Bear Mountain State Parks has been significantly updated to include the new route of the Appalachian Trail over Bear and West Mountains, the extension of the Fawn Trail, and relocations of sections of the Long Path, the Tuxedo-Mt. Ivy Trail and the Ramapo-Dunderberg Trail.

A special feature of this new edition is the inclusion of many historic photos which appeared in the first edition of the book but could not be found for use in the 2010 edition. These photos have been rediscovered and are once again included in the book. Additional photos of scenic features have been added, and each trail description has been carefully reviewed and updated as needed. The historical information on the trails, originally prepared by the late Bill Myles, has been updated by Daniel Chazin to include changes in the trails that have taken place since the publication of the last edition.

Marked Trails section includes 41 descriptions
Revolutionary Trails section includes 4 descriptions
Woods Road section includes 23 descriptions
Unmarked Trails section includes 13 descriptions
Historical Trails section includes 10 descriptions
Stone Roads section includes 6 descriptions
Additional sections cover Doodletown and Iona Island, as well as the Dunderberg Spiral Railway
Lakes, roads, and mines, as well as a general history of the parks, are also included
Includes a Table of Contents and an Index


Published by the New York-New Jersey Trail Conference. 440 pages, paperback.