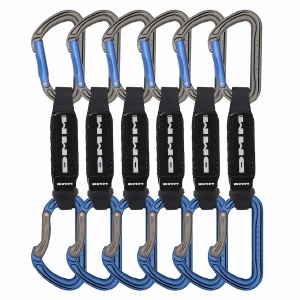 Shadow 12cm Quickdraw 6-Pack
$146.95
The Shadow is a lightweight sport carabiner that gives easy clipping and stripping of routes thanks to its solid gates and keylock nose.

A straight gate on the bolt end and bent gate on the rope end maximise ease of clipping, while the nylon sling gives you something to grab hold of when working routes. Ideal for onsight sport climbing.


Shadow Straight Gate Stats
Weight: 42g
Strength: 24kN/9kN/10kN
Gate Opening: 20mm

Shadow Bent Gate Stats
Weight: 43g
Strength: 24kN/9kN/10kN
Gate Opening: 25mm

Final Sale Item. No returns can be accepted on load-bearing climbing equipment.



WARNING: This product can expose you to chemicals including Chromium that is known to the State of California to cause cancer and to cause birth defects or other reproductive harm. For more information go to this site.