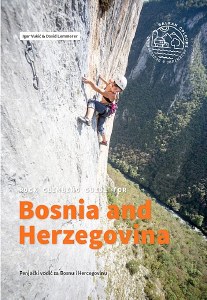 Bosnia & Herzegovina Climbing
$49.95
A new climbing guide to Bosnia and Herzegovina... in full colour throughout, the guide describes 32 crags spread over four areas; it also includes two locally popular bouldering venues - the guide has superb photo-topos and is packed with some great action shots. Also included is information on the history and culture of the area plus information on nearby climbing walls and information on getting around the place... to quote Adam Ondra 'one of the best guidebooks I've ever seen'... English plus local language throughout...

Author: Igor Vukic & David Lemmerer
No of Pages: 480
Page Size: 150 x 210 mm
ISBN 10: 9997672305
ISBN 13: 9789997672308
Publisher: Ticket To The Moon (Europe)
Published Date: April 2018
Edition: 1st: April 2018
Binding: Paperback (flapped)
Illustrations: Full colour photos + Photo-topos...