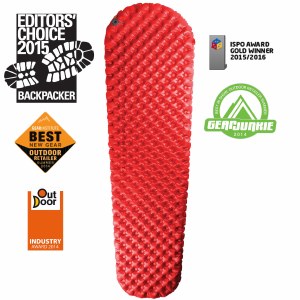 Comfort Plus Insulated Tapered Sleeping Pad
$219.00
The Comfort Plus™ Insulated Sleeping Mat earned its Backpacker Editors' Choice award, 2015 for a combination of its Air Sprung Cell™ technology and dual layer comfort. With two separate layers of interlocking air chambers and our multi-function valve, the sleeper can fine-tune the top layer to perfection, and adjust the base layer to accommodate for rough terrain. The built-in redundancy is not to be taken lightly - if one side of the mat punctures, the other is still able to function until a repair is made. It's insulated with Thermolite® and Exkin Platinum® for great warmth.

IS THIS INSULATED AIR SLEEPING MAT…?
Warm enough for four-season use? Yes. This air sleeping mat has a tested R-Value of 4.0 which is enough insulation for all but the coldest ground.

Really comfortable despite being 2.5" thick? Yes. Thickness is not the key factor in an air sleeping mat; the number of points of suspension is. Your weight and contours rest on 548 individual air-filled springs (size Regular).

Easy to inflate? Yes! The supplied stuff sack features an integrated Airstream Pump – just a couple of breaths will inflate the air sleeping mat. No dizziness for you, and practically no condensation moisture inside the air sleeping mat. Genius!

HIGHLIGHTS
Best Use
Backpacking, Camping, Bike Touring

Performance
4 Season: You'll be ready for anything from winter camping to summer adventures

Comfort & Support
548 individual Air Sprung Cells™. These small interconnected chambers support your weight and conform to your body, similar to a spring mattress. Sleep on your back. Sleep on your side. The best night's sleep ever awaits you.

Dual-layer construction
Offset welds mean the greatest possible number of air 'springs' and ultimate reliability

FEATURES
-R-Value of 4 is warm enough for all but the coldest ground.
-Exkin Platinum® fabric and THERMOLITE® insulation are combined to prevent heat loss. The dual-chamber design means no top-to-bottom air movement, which reduces warmth transfer.
-Dual-Layer Air Sprung Cells provide more support, insulation and excellent comfort.
-Quick and easy inflation, deflation and adjustment made possible by patent-pending multi-function valve and supplied Airstream -Pump™/stuff sack.
-Tough 30D / 40D face fabric with Sea to -Summit's liquid-extruded lamination is quiet, durable and extremely reliable.
-PillowLock™ system to preventing your -Aeros™ Pillow slipping.



WARNING: Cancer and Reproductive Harm. For more information go to this site.