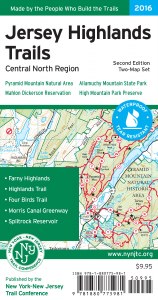 Jersey Highlands Trails - 2016
$9.95
Printed in vibrant color on waterproof and tear-resistant Tyvek, this digitally-produced two-map set is a must-have for outdoor enthusiasts interested in exploring the many parks and trails throughout the central north region of the New Jersey Highlands.

The maps in this set feature:
• More than 230 miles of marked trails within more than 30 parks in northern Morris County and adjacent portions of Passaic, Sussex, and Warren counties
• Parklands including Pyramid Mountain, High Mountain Park Preserve, Allamuchy Mountain State Park, Mahlon Dickerson Reservation, and the Farny Highlands
• More than 45 miles of the Highlands Trail and the nearly 20-mile-long Four Birds Trail
• 20-foot elevation contours
• 1:40,000 scale (1 inch = 0.63 mile)
• Convenient map sizes to carry and use on the trail
• Parkland boundaries
• Unmaintained trails and woods roads
• Viewpoints, waterfalls, mines, and other points of interest
• Parking areas
• Public transportation
• Park contact information, history, and regulations
• UTM coordinate grid

Built on more than 75 years of mapping experience, New York-New Jersey Trail Conference maps are your source for reliable trail information in the New York-New Jersey metropolitan region. These maps are Made By the People Who Build the Trails and are regularly updated with changes to the trails.