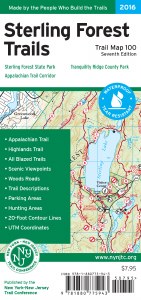 Sterling Forest Trails Map Set - 2016
$7.95
Printed in vibrant color on waterproof and tear-resistant Tyvek, this revised, digitally-produced map is a must-have for enjoying and exploring the outdoor opportunities in Sterling Forest State Park.

This map features:
• More than 170 miles of marked trails in Sterling Forest State Park and surrounding parklands, including Harriman State Park and northern New Jersey parklands
• Sections of the Appalachian Trail and Highlands Trail
• Detailed trail mileage numbers directly on the map front
• Recent trail additions and changes, including the new Doris Duke Trail
• 20-foot elevation contours
• 1:39,300 scale (1 inch = 0.62 mile)
• Convenient map size to carry and use on the trail
• Complete trail index and guide to trail blazing on map back
• Enlarged inset map of trails surrounding the park visitor center
• Park land boundaries
• Unmaintained trails and woods roads
• Shelters
• Fire towers, viewpoints, and other points of interest
• Parking areas
• Public transportation
• Areas where hunting is permitted
• Park contact information, history, and regulations
• UTM grid with latitude/longitude markings

Built on more than 75 years of mapping experience, New York-New Jersey Trail Conference maps are your source for reliable trail information in the New York-New Jersey metropolitan region. These maps are Made By the People Who Build the Trails and are regularly updated with changes to the trails.