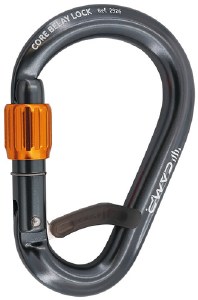 Core Belay Lock - Gun Metal
$17.95
Extremely smooth HMS belay and rappel carabiner with secure screw lock closure.

New screw gate is lightweight and easy to handle
• Inner gate prevents cross-loading
• Large gate opening and SphereLock nose make clipping ropes and webbing easy
• Laser etched marking to indicate if the lock is open or closed

The unique shape of the Core Lock HMS carabiner creates a very wide gate opening and positions ropes for the smoothest belays and rappels. The inner gate creates a captive eye to prevent rotations that can lead to cross-loading and the SphereLock nose makes clipping ropes and webbing easy.

WEIGHT
84g

SPECS
ID: 2926
Height (mm) : 114
Width (mm): 77
Gate Opening (mm): 25
Major Axis (kN): 22
Minor Axis (kN): 11
Open Gate (kN): 6

Final Sale Item. No returns can be accepted on load-bearing climbing equipment.